Herstellung von Datenverarbeitungsgeräten und peripheren Geräten (26.20.0.00)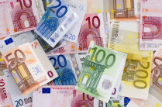 Charges for this service
Here you can find an overview of the important charges applicable in Bavaria.
If you select a location (see "Your selection - location"), you will find locally valid charges if available.
More information about charges may be available on the internet site of the responsible public authority.
Formalitäten nach der Dienstleistungsrichtlinie

To the responsible Point of Single Contact
Die Einheitlichen Ansprechpartner können für ihre Tätigkeit Gebühren und Auslagen erheben.
Fees, Bavaria-wide
Fees, locally limited