Real estate broker, loan broker, developer, construction supervisor, or residential property manager; applying for a permit.
Status: 20.02.2023
Responsible for editing: Deutscher Industrie- und Handelskammertag e.V.
Online transactions, Bavaria-wide
Online transactions, locally limited
Prefillable Form, Bavaria-wide
Legal bases, Bavaria-wide
Legal bases, locally limited
Fees, Bavaria-wide
Fees, locally limited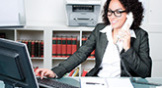 Responsible for you

If you select a location under "Localization" the contact details of the responsible authority and, if applicable, locally valid information will be displayed.