Different ways of entering the portal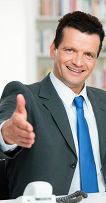 Services
You want to open up a business in Bavaria or are already a successful entrepreneur?
You want to know for which formalities which authorities you have to contact and which Point of Single Contact is responsible for you?
Then you are right here! In the Dienstleistungsportal Bayern you will find the contact details of responsible authorities and Points of Single Contact and information about requirements / formalities, forms, costs and associations. The required information is displayed after you have made your selection in terms of the service, the concern, the nationality and the location.
Start!